Sale!
Refurbished: Datacard DC150i Embosser/Tipper Machine
$1,600.00 – $2,300.00
Clearance Sale!
DataCard DC150i Embosser/Tipper – Refurbished
Includes  2 foils – Available with or without laptop
Tested / Cleaned / Good Operating Condition / Signs of normal wear

Description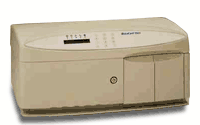 Clearance Sale!
DataCard DC150i Embosser/Tipper – Refurbished
Includes  2 foils – available with or without laptop

DataCard 150i Card Personalization System
On-site issuance of financial cards — in a fast, single-pass operation
Now you can put high-quality credit, debit and ATM cards in your customers' hands instantly — with the DataCard® 150i card personalization system.
This affordable, compact system is ideal for banks, savings and loans, credit unions, retailers and other organizations that want to improve customer service.
Lower issuance costs and greater customer satisfaction
Issuing ready-to-use financial cards on-the-spot eliminates the expense and risks associated with personalized mailing. Customers receive their cards — and can begin using your services — immediately.
Promote immediate use of your products and services
With instantly issued cards, you have the opportunity to discuss credit, debit or ATM programs with customers immediately. You can explain benefits right then and there, as well as answer any questions. So customers not only feel more comfortable — they can access your products and services more confidently.
Security features deter theft and fraud
The DataCard 150i offers several unique security functions. For physical security, a user's application may define a password which can unlock the chassis cover. All entries can be recorded on the audit trail to protect your card stock.
The 150i also is programmed to recognize financial card formats. A password is required from the host to enable quick and easy production of financial cards.
Magnetic stripe and smart card capabilities
Because the world is progressing from magnetic stripes to smart card technology, the DataCard 150i offers both. It includes standard magnetic stripe encoding capabilities as well as optional smart card personalization capabilities. This dual approach will help smooth the transition to smart card technology.
Standard Features

75-character embossing wheel

Magnetic stripe encoding — high and low coercivity, up to three tracks

Color topping

Reloadable topping foil cassette

Automatic/exception card feed

Locked cabinet; password access

Message display and LEDs

Local keypad

RS-232 communications

Host-based card verification security

Options

Smart card personalization

Indent printing (front or rear)

Choice of topping foil colors

Specifications

Designed for applications requiring up to 50 cards per day

Card production speed: approximately 60 seconds per card (based on ISO standard financial card format)

Magnetic stripe encoding: up to three tracks

Indent printing:

Standard characters

MasterCard® character

Input hopper: up to 100 cards (automatic feed)

Output stacker: up to 15 cards

Reject card stacker: up to 10 cards

Plastic cards accepted: CR80

Card size: 3.375 in. wide x 2.125 in. high (85.7 mm x 54.0 mm)

Card thickness: .030 in. (.76 mm)

Physical dimensions: 24 in. x 17.75 in. x 11 in. (61 cm x 28 cm x 45.1 cm)

Weight: approximately 70 lbs. (31.8 kg) base system

Electrical configurations

100V, 50/60 Hz

110V, 50/60 Hz

120V, 50/60 Hz

220V, 50/60 Hz

230V, 50/60 Hz

240V, 50/60 Hz
Additional information
| | |
| --- | --- |
| Weight | 80 lbs |
| Dimensions | 24 × 17.75 × 11 in |
| Options | without Laptop, with Laptop & software |
Only logged in customers who have purchased this product may leave a review.