White Teslin Inkjet / Laser Full Sheets – Perforated Cards 8-Up
$40.00
Inkjet/Laser Teslin Perforated Synthetic Paper – 10mil,  10 Pack

Description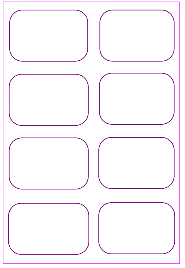 Inkjet/Laser Teslin Perforated Synthetic Paper – 10mil,  10 Pack
About this product:
Our Perforated inkjet / laser Teslin Paper makes it easier than ever to produce a professional ID card.
Simply print out your ID, punch it out from the sheet, and place it in to a butterfly pouch and laminate.
Each sheet has 8 credit card size punch outs. We recommend printing all 8 ID cards at the same time in order to avoid printer jams.
Inkjet/Laser Teslin is specifically designed for use with inkjet or laser printers. All Inkjet/Laser Teslin on the market today is double sided, meaning you will get the same quality of print no matter which side you print on.
Inkjet / Laser Teslin is a coated, microporous material that bonds readily and firmly with inks, adhesives, and laminating films. It is water-resistant once ink has dried!
Specifications:

THICKNESS:  10 Mil
PERFORATED:  Yes
PRINTER TYPES:  Inkjet or Laser
SHEET SIZE:  8.5″ x 11″
CARDS PER SHEET:  8-Up
CARD SIZE:  Credit Card – 2.125″ x 3.375″
Only logged in customers who have purchased this product may leave a review.