Sale!
ID Card Laminator 4.5″
$125.00
Description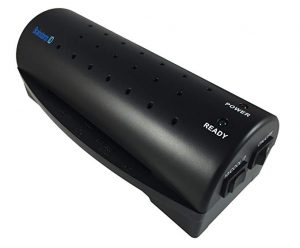 Description

This 4.5″ Teslin ID Card Laminator is made for ease of use and consistent lamination performance.This laminator is the result of over a year of planning and testing to make the best low-cost laminator for making Teslin ID cards. If you're thinking about going with a different low-cost laminator and plan to use 7 or 10 mil laminates, stop now. This is the laminator for you!This laminator has 2 temperature controls to set the perfect temperature for 7 and 10 mil laminates. This laminator will heat up in about 5 minutes and features a green LED to indicate that it has heated to the proper temperature and is ready to use.
Specifications
WIDTH CAPACITY:  5″ (11.5 cm) – Large enough for standard ID Cards/Badges
2 ROLLERS:  Provides adequate pressure and heat to laminate 7 and 10 mil butterfly pouches.
2 TEMPERATURE SETTINGS:  Temperature is fixed at 2 settings to allow easy operation
FAST: Warms up in just 5-6 minutes!
LED READY LIGHT: Green LED light activates to indicate proper temperature has been reached for lamination
ONE YEAR WARRANTY: Warranted to be free of defects in materials and workmanship for a period of one year from the date of purchase.
POWER: 120V (North American Standard)
# ROLLERS:  2
TEMPERATURE ADJUSTMENT: Yes
Only logged in customers who have purchased this product may leave a review.