Sale!
Mini600 Portable Magstripe Reader with LCD, 512K, 3-tracks, USB cable
$500.00
Mini600 Portable Magstripe Reader with LCD, 512K, 3-tracks, USB
Ideal for any portable data collection application using magstripe ID cards


Out of stock
Description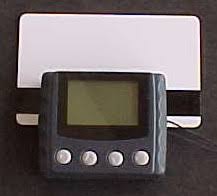 Mini600 Portable Reader with LCD, 512K, 3-tracks, USB
Mini600 is a mini portable battery-powered magnetic stripe reader with LCD and time stamp for Data verification and collection applications. Mini600 is designed for card swiping data collection anytime and anywhere without computer. Data is read from the card and keep into the memory, then downloaded to the computer.
Features:
LCD display (102 X 68 dots)

Beep Off/On by software

USB interface

LED status

512K bytes memory for storing 3000 data
Time stamp shows date and time with every transaction
Magnetic stripe reader can read all 3 tracks
Power on by 1.5 v Battery

Auto power off for power saving

Low battery indicator / Memory full indicator
Password Protection defends user
Programmable for many more functions
Compatible with Exeba-COMM Software
Software easy to use
Bi – Directional
L2.25x W1.80 x H0.75 inch

1.9 oz
 Applications
: 
Any movable data collection (Trade shows, Racing events)
Employee's Time / Attendance data collection
Exhibition visitors' data collection
Conference attendance data collection
Card verification (age verification)
Point of sales (payment collection)
Law enforcement (DMV card)
Attendance (Student ID, Membership card)
 Specifications:  
 

ISO Standard

 Track 1

 210 bpi,  79 Alphanumeric Characters   

 Track 2

 75 bpi,  40 Numeric characters

 Track 3

 210 bpi, 107 Numeric characters  

 Electrical

 Memory size

 512K stores up to 3000 records 

 Time stamp

 Date: YY/MM/DD 

( 1992 To Present/04/11 => April 11, 1992 To Present )

 Time: HH:MM:SS 

(19:08:35 => 7:08:35pm)

 Week: Sun.=>

1

, Mon.=>

2

, Tues.=>

3

 Wed.=>

4

, Thurs.=>

5

, Fri.=>

6

, Sat.=>

7 

 Example:

 1992 To Present/04/11 19:08:35 2 => April 11, 1992 To Present,  7:08:35pm, Monday

 Interface

 USB or RS232

LCD Display
FSTN 102 X 67 Dots Matrix


 Speed

 Card speed through the unit may vary from 3 ~50 ips  

 Battery Power

 

Single-cell Size AAA 1.5V DC Battery


 

Environment

 Working Temp

 0~55 Deg. C

 Storage Temp

 -10~55 Deg C

 Humidity

 10~90% Relative

 Physical

 Dimensions

 

L 2.25x W 1.80 x H 0.75 inch  ( L 58 X W 46 X H 20 mm )

 Net Weight

 1.9

 oz
Only logged in customers who have purchased this product may leave a review.