MSRx6-BT Bluetooth Magstripe Reader/Writer, 3-tracks, HiCo/LoCo, USB cable
$300.00
MSRx6-BT Bluetooth Magstripe Reader/Writer, 3-tracks, HiCo/LoCo, USB
NO power supply or USB driver required
Description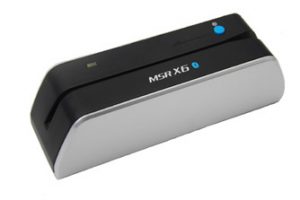 MSRx6-BT Bluetooth Magstripe Reader/Writer, 3-tracks, HiCo/LoCo, USB
NO power supply or USB driver required
Bluetooth & USB for Mac, iPhone, iPad, Android


MSRx6-BT phone App (not included)


Extreme Compact Design


No Power Supply Required

No USB Driver installation Required
ALL GENUINE

NO Power Adapter Required
Can Read or Write all HiCo or LoCo Magnetic Stripe Cards
Power and Communication via the USB
Plug and Play – NO USB driver required
Multi-platform compatibility: Windows, Mac OS and Linux
MSRx6-BT® encodes, reads, & verifies three tracks of magnetic stripe data in a single swipe.
A high resolution tachometer precisely locates encoding; the encoding quality exceeds ISO 7811
standards for new cards. Data density is selectable to 75 or 210 BPI for any track. High or low
coercivity (300~4000 OER) is software selectable. An LED provides operation status.
Heavy Duty and Long Life Full-length guides & a deep card slot ensure accurate card alignment
and registration. The low force design of EzWriter ensures a smooth and easy card swipe which
provides an operating life for more than 1,000,000 card swipes. The die cast housing gives
durability and maximum stability during reading and writing operations.
EasyMSR Software is PC/Mobile software utility. It includes all standard and many custom options
for reading & writing to a magnetic stripe card. A single window shows the reading & writing
format selections for each track. Default selections are available for simple & correct set-ups
when encoding ISO, AAMVA or other formats. file operations is supported. Convenient
features such as track erasing, card data comparisons, and sequential data writing are included.
The MSR X6(BT) communicates via Bluetooth 4.0 or USB port interface.
Model:

Housing / Color:

ISO Standard:

Tracks:

Media Thickness:

Encoding/Decoding Density:

HiCo & LoCo:

Swipe Speed (Reading):

Swipe Speed (Writing):

Interface:

Power Supply:

Power Consumption:

Operating Instructions:

Swipe:

Compliant Systems:

Certified:

Size:

Weight:

MSRx6-BT

ABS / Silver & Black

ISO7811/1~6, AAMVA, DMV

1, 2 & 3

.007 to .045 inches

75 or 210 bpi, for each track

All compatible (250~4000 oe)

5 to 55 inches per second

5 to 35 inches per second

Bluetooth 4.0 (or lower) & High Speed USB (Micro USB)

VDC +5V (USB directly)

<2AMPS (Triple Track Reading & Writing at High Coercivity)

LED

Manual, single direction

Windows 10 /8 / 7 / Vista (32 & 64) / XP / Mac OS Linux/Unix

FCC Class A, CE Class A, ROHS

5.5 x 1.6 x 1.6 inch (140 x 42 x 42 mm) – VERY SMALL

0.5kg ( 5 oz)
Read:

Write & Rewrite:

Copy:

Erase:

Compare:

Read to File:

Write to Write:

Sequential Write:

Plug & Play:

Yes

Yes

Yes

Yes

Yes

Yes

Yes

Yes

Yes
Applications

Retail:

Government:

Other:

Gift Card, Customer ID, Store ID

Driver's License, Health Card, Government ID

Membership ID, Club ID, Student ID
Only logged in customers who have purchased this product may leave a review.