HDP5600 Premium Black Ribbon, 3000 prints
$195.00
HDP5600 Premium Black (K) Ribbon, 3000 prints
Compatible with HidGlobal/Fargo HDP5000* / HDP5600 / HDP5600XE printers
Description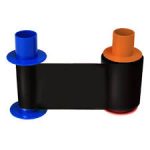 HDP5600 Premium Black (K) Ribbon, 3000 prints
Compatible with HidGlobal/Fargo HDP5000*,  HDP5600, HDP5600XE printers.
Print high quality monochrome barcodes, graphics, logos, and text.

---
* NOTE: This ribbon works with newer HDP5000 printer models.
If you have an older version printer, it may require a firmware update.
For older HDP5000 printers we recommend ribbon p/n: 84060
DESCRIPTION:

Fargo 84518 Resin Black ("K") ribbons are monochrome (1-color) ribbons.
Fargo 84518 black monochrome ribbons are primarily used for printing text and one-color line art on one or both sides of a card.
Note: Black resin is needed to print readable barcodes.
To maintain your Fargo card printer's warranty, genuine Fargo ribbons must be used.
Only logged in customers who have purchased this product may leave a review.