MiniDX-BT Bluetooth Portable Magstripe Reader, 512K, 3-tracks, USB cable
$250.00
MiniDX-BT Bluetooth Portable Magstripe Reader, 512K, 3-tracks, USB


Description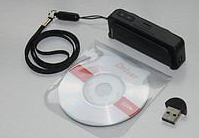 MiniDX-BT BluetoothPortable Magstripe Reader, 512K, 3-tracks, USB
MiniDX-BT is built with Bluetooth and USB interface Portable Data Collector. Wireless interface, allowing it to send magstripe data to PC at the real time! It works with any Bluetooth adapter (Dongle) in the market. It is a rechargeable battery-powered portable magnetic swipe reader, which is specially designed for magnetic stripe data collection at anytime and anywhere without computer. Data is read from the card and kept into the memory then downloaded to the computer.

512 K bytes memory for storing 2000 data

Triple track version stores data from all 3 tracks

Bluetooth/USB 2 in 1 interface

Rechargeable battery lasts 72 hours (3 days)

It works with any Bluetooth adapter (Dongle) in the market

Wireless range: Up to 26.25 feet (8 meters), depends on the area

Class 2 Bluetooth wireless interface

Battery powered and low battery indicated

Charged by power adapter (5v /110~240v) or USB only 1 hour to full

Time stamp shows date and time with every transaction

Data downloadable to the computer via Bluetooth or USB

Auto Power Off /Switch Control/Really Control set by user

Transfer data to MSR206 directly

Password Protection defends user

Easy to use software

Specifications

ISO Standard
Track 1 – 210 bpi, 79 Alphanumeric Characters
Track 2 – 75 bpi, 40 Numeric characters
Track 3 – 210 bpi, 107 Numeric characters

Electrical
Memory Size – 512K stores up to 2000 records
Battery Power 3.7v 220 mAH Rechargeable Battery 

Time stamp
Date: YY/MM/DD ( 2002/04/12 => April 12, 2002 )
Time: HH:MM:SS (19:08:35 => 7:08:35pm)
Week: Sun.=>1, Mon.=>2, Tues.=>3 Wed.=>4, Thurs.=>5, Fri.=>6, Sat.=>7
Example: 2002/04/12 19:08:35 6 => April 12, 2002, 7:08:35pm, Friday

Interface Bluetooth: HID USB
Speed card speed through the unit may vary from 3 ~50 ips

Environment
Working Temp 0~55 Deg. C
Storage Temp -10~55 Deg C
Humidity 10~90% Relative

Physical
Dimensions: L 3.25 x W 0.75 x H 1.0 inch ( L 8 x W 1.5 x H 2.5 cm )
Net Weight: 1.8 oz
Only logged in customers who have purchased this product may leave a review.